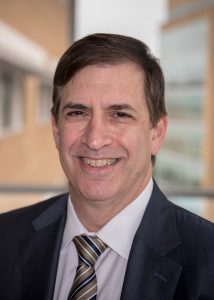 Michael Lehman, Ph.D., is professor and chair of the Department of Neurobiology and Anatomical Sciences, and chairman of the board of the Neuroscience Institute at the University of Mississippi Medical Center. At UMMC, he led the creation of a universitywide neuroscience institute, which integrates research, education and health care, based on the partnership of multiple departments, schools, and hospitals. Lehman obtained formal approval from the Institutions of Higher Learning of the state of Mississippi in 2016 for the UMMC Neuro Institute, and he serves as chairman of its operating board.
Prior to moving to Mississippi, Lehman was professor of molecular and integrative physiology, and obstetrics & gynecology, and co­‐director of the Reproductive Sciences Program at the University of Michigan. Prior to that, he served as professor and chair of the Department of Anatomy and Cell Biology at the University of Western Ontario in London, Ontario. He began his career at the University of Cincinnati. Lehman received his B.A. cum laude in biology-psychology from Wesleyan University, and his Ph.D. in neuroscience from the University of Michigan, and subsequently was a postdoctoral fellow at the University of Michigan and associate research scientist at Columbia University.
Lehman is an accomplished neuroscientist who has made seminal contributions to the fields of neuroendocrinology and circadian rhythms. He has over 160 peer-­reviewed papers, book chapters, and reviews, including publications in Science, Nature, Nature Neuroscience, Journal of Neuroscience, and Endocrinology. His lab has been continuously funded by the National Institutes of Health, National Science Foundation, and other federal agencies for over 30 years. Lehman has served on numerous grant review panels at NIH and NSF, and is currently chair of the Integrative and Clinical Endocrinology and Reproduction Study Section at the Center for Scientific Review of NIH. He also serves as a senior editor for the Journal of Neuroendocrinology. In 2017, he was selected as a fellow of the American Association of Anatomists in recognition of his excellence in science and contributions to his field.