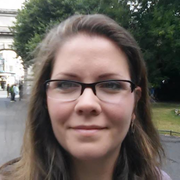 Anne Cafer grew up in a rural Missouri community just north of St. Louis, where she spent much of her time on her grandparent's farm, which was the hub of rural family life. She grew up appreciating nature and the struggle of small-scale farm families to eke out a living while coexisting in harmony with the environment. This fueled her desire to develop better ways of "doing" agriculture at small scales. She attended Northwest Missouri State University as a molecular biology student, determined to develop the next miracle crop. She loved biology, but recognized much of what was done in the lab is done in isolation of the end-user — farmers. Researchers weren't asking questions about the needs of those who would most benefit from these new technologies. As a result she also added a sociology major; to help her understand the role of social processes in shaping our interactions with the environment. In 2009 she graduated from Northwest with a bachelor's of science in both biology and sociology.
At the recommendation of her major advisors she sought out anthropology as her next step. It blended her interests in bio-physical and social processes, and her new mentor at the University of Nebraska-Lincoln was keen to put a student in a new study site in Ethiopia. While at Nebraska, she was able to work with refugee groups, conduct field research in the beautiful highlands of the Simien Mountains, and continue her pursuit of environmental issues. Her time in Ethiopia was transformative in many ways. In these rural villages she saw firsthand the devastating effects extreme poverty can have on both human well-being and the environment. Despite the surplus of agricultural technologies, aid dollars, and information on environmental conservation, these farmers were starving and working an exhausted landscape simply to mitigate the constant hunger. She decided then that in order to truly address environmental issues, she would also have to work on issues of food security and poverty. After graduating with her master's in anthropology in 2011, she pursued a degree program that allowed her the flexibility to pursue these interests.
In the fall of 2011 she enrolled as a doctoral student at the University of Missouri in the department of rural sociology. At Missouri she was encouraged to work on domestic issues, in addition to her international study, and was given the space to explore the implications of the interactions between national and state-level policy, inequity in food price and access, and federal entitlement systems. Combined with investigation into the emergency food system, this research is a significant component of her scholarly work. She was also able to secure a Borlaug Fellowship in Global Food Security to continue her research in Ethiopia. She returned to those same communities she worked in and examined intersecting issues of poverty, food security, health, and agriculture from a systems approach. She specifically looked at how the various institutional arrangements at the national, state, and community level shape farmers' decision making processes and willingness to adopt sustainable intensification (related to conservation agriculture) practices.